Winter is coming, Milton Neighbors! Let's be prepared!
Is your home ready for the coming winter? If not, now is the time to get things ready.
Here is my recommended shortlist of things you need to do to get prepared…
Ice Dams
Ice dams are #1 on the list. I'm sure a lot of you have become experts on the subject since last winter. But those of you needing a refresher, here it is:
First, what causes an ice dam to form? Simply, when the snow lands on your roof, the heat from inside your house rises and melts the snow. This water then runs down your warm roof and then freezes when it reaches the cold eaves (especially if your roof is poorly insulated). It then creates a dam in the eaves and water backs up under your shingles or slates, causing water to enter your house.
How do you prevent this from happening? First, better insulation is the single best answer to avoiding ice dams. If your attic is accessible, insulating the roof rafters with spray foam insulation is a permanent solution to your problems. Not only will it help prevent ice dams, but your energy savings from a better-insulated house will absolutely save you $$$ in the future. Secondly, if you have been considering putting of a new roof on your property, then ask your roofer to install an ice and water shield (we recommend Grace Ice and Water Shield) to the entire roof, not just the valleys and/or first three feet of roof.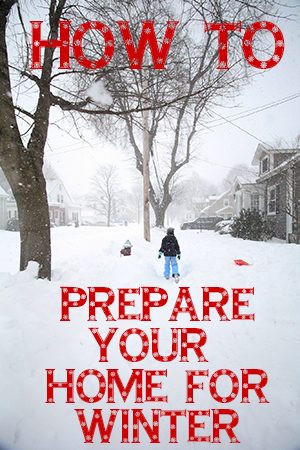 If you are faced with ice dams this winter, here are some DO'S AND DON'TS!
DO:
Call a professional if you are not comfortable addressing the issue your self.
Have a roof rake on hand.
At the first sign of a leak, point a fan from the under side of the roof (attic) towards where the water is entering.
DON'T:
Hammer away at those icicles.
Throw salt/snow melt on your roof.
Try to roof rake your roof from a ladder. Stand safely on the ground away from the falling ice/snow.
Gutters
Are your gutters cleared and free of all debris? If not, have them cleared before the first snow, so that any water can escape the roof area.
Storm Windows
A lot of houses in our area have storm windows, most of which have been opened since last winter. Make sure they are closed properly before winter arrives. The upper sash should be to the outside and lower sash should be to the inside.
Roof Shoveling
Let's skip the panic of getting our roofs cleared this winter. Instead be prepared. If you feel comfortable doing this yourself, then make sure you have the tools on hand and maybe even a back up roof rake (maybe it's time to get that back from your neighbor who borrowed it). Or go ahead and line someone up now to shovel/clear your roof this winter if necessary. Don't wait until the last minute (unless you like being gouged). Also, please make sure that anyone doing work on your property has the proper insurance (that includes both workers comp and liability insurance). View this list of locally-recommended snow removal services.
Snow Blowers / Shoveling
I'm sure all of you have had your snow blower serviced? If not, now is the time to get it serviced. Every fall, your snow blower should have the oil changed and the gas in it check. The last thing you need is wake at 6 a.m. to clear you driveway and the snow blower won't start. Also, stock up on ice melt/salt (whatever your preference) and have a spare shovel on hand.
Driveway Plowing
Do you need someone to plow your driveway? Make sure your service has been lined up and confirmed. View this list of locally-recommended snow removal and plowing services.
Back up Generators
I'm sure most of us have lost power at some point in time (usually the most inconvenient time). You may want to consider a mobile generator that can be used to keep the basics going. PLEASE NOTE: ALWAYS KEEP THE GENERATOR OUTSIDE OF THE HO– USE AND THE GARAGE WHEN IN — USE.
Heating Systems
Furnaces should be serviced yearly and filters replaced periodically. If your furnace hasn't been serviced, call to schedule one. View this list of locally-recommended plumbing and heating services.
Finally…
JUST BE PREPARED!!! Think ahead and prepare for the worst. I promise you it will save you a few $$$ and a lot of headaches. Stay warm and SAFE this winter.
About Our Home Improvement Expert:
Kieran McKinney is a fully insured and licensed general contractor in the the state of Massachusetts. He is one of six brothers that are European born and Irish bred and he has over 28 years of construction experience. In 2000, he and his business partner started Absolute General Contracting, Inc, a full-service construction company specializing in all aspects of general contracting services. Kieran is an expert in all facets of the construction business from permitting, to framing, to high-end finish carpentry, structural repairs and more. Kieran currently lives in Milton, MA with his two stepdaughters, Alex and Ella, his wife Jennifer and their beloved bulldog, Emee.
Kieran McKinney
General Contractor/Owner
Absolute General Contracting, Inc.
(617) 464-3399
www.buildabsolute.com