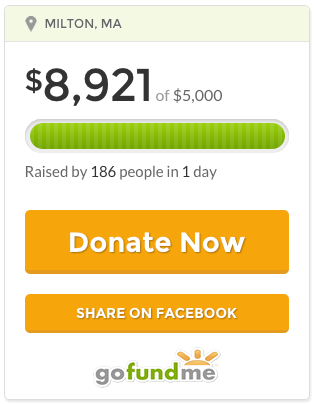 On Thursday, December 17, a Hudson Street family lost everything during a fire which engulfed their apartment, located in a two-family Milton home.
Rashaun Laing and Chrisbeli Baez, along with their 16 month old daughter, Mia, shared the apartment with their best friends, Katherine and Albert.
This past Thursday, they stood outside their apartment in the rain and watched a fire take their Christmas tree, all the presents they had purchased for their family and friends, and everything they owned, including recently-purchased furniture that hadn't yet been paid off. The family had no renters insurance and is now homeless.
Milton Neighbors donate thousands within hours:
Within hours, Milton resident Jennifer McCullough had set up a GoFundMe account for the residents using the 3600+ person Facebook group, Milton Neighbors, as a means of deliver the request for help. In less than an hour, Milton Neighbors met the goal of $500. Within two hours, it was over $1000. At press time, 150 people contributed nearly $9000, in one day. (If you are interested in donating, view the GoFundMe page.)
Milton resident Michael Chinman put the overwhelming response of Milton Neighbors perfectly: "What a terrible thing to happen; what an inspiring thing to happen."