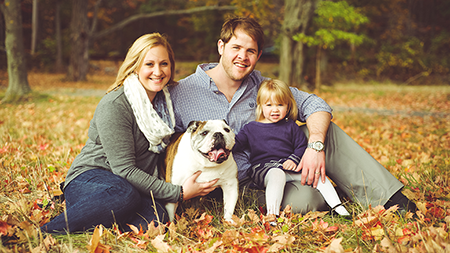 My name is Regina (Phillips) Malley and I am excited to announce my candidacy for Park Commissioner. I am running for Park Commissioner because I believe our parks and recreation programs bring out the very best of Milton — an environment where our children can safely play and where our neighbors can enjoy our wonderful community.
I was born and raised in Milton. I grew up on Nahanton Avenue (where my parents still live today), and I now reside on Lyman Road with my husband James and our two children, daughter Claire (age 3) and son Cameron (8 months). I attended Milton Public Schools grades K-5, Saint Agatha School grades 6-8, and Milton High School. My first job was at Newcomb Farms Family Restaurant, and my second job was at Bent's Cookie Factory. I volunteered throughout high school with the Gym Buddy Program and also at Milton Hospital.
I benefited immensely from Milton's Park & Recreation programs throughout my youth. My brothers and I loved the local playgrounds and played various sports. I feel quite nostalgic every time I bring my children to the same parks and playgrounds where I spent countless hours of my childhood. Though my children are too young for many of Milton's athletic programs, my husband and I are loyal fans of our nephew's baseball, basketball, and soccer teams, which my brother Danny has coached for the last several years.
Milton's Park and Recreation programs are critical components of our community, and we must work together to ensure they are safe and accessible to all of Milton's residents. I am a member of the Milton Playground Planners Steering Committee, a group of residents working to raise money to enhance several town owned playgrounds. I am passionate about children and believe spending time playing outdoors is critical to their physical and social development. But it's not just our children that need these great outdoor spaces—people of all ages benefit from "unplugging" and spending time outdoors. Even in tight economic times, we cannot lose sight of the importance of these public spaces and community programs.
I earned my Bachelor's Degree in Business Economics at University of Maine at Farmington, and went on to earn a Master's Degree in Human Resources & Employee Relations at Penn State University. I've spent the last 12 years working in Human Resources, and I am currently a Senior Human Resources Manager for British Telecom (BT).
I hope you will consider my candidacy on April 26th. Thank you!