Broad Appeal: Patricia Gervasi of Gervasi & Co., on all things business and hair
About this episode:
Patricia Gervasi opened her own salon on Beale Street in Quincy in 2015 after a journey up through the beauty industry that began as a teenager. On a new episode of "Broad Appeal," this resident and entrepreneur talks about setting out on her own, including all the challenges involved in setting up her business.
About our guest:
As early as eighth grade, Patricia knew she wanted to be involved in the beauty industry, beginning as a model when was younger. She soon realized that she was better suited for the behind-the-scenes aspect in working with hair. In high school, Patricia took cosmetology courses, and once she graduated, she worked in a barbershop, taking haircuts for as little as $3. From there, Patricia was able to hone her skills as a stylist, refining her techniques in both cutting and color until she took her first full-time stylist position in Boston at age 20.
Patricia then spent 14 years working as a stylist in the city, further developing her skills, but always feeling as though she could also combine styling skills with being a businesswoman. She started working with Matrix color and products about five years ago, and quickly moved towards becoming an educator for the company. Fast forward to 2015, to the grand opening for Patricia's own salon, Gervasi & Company. Gervasi & Co. has been servicing the wonderful people of Milton, Quincy, and surrounding areas ever since, and has become a staple in the community for those who seek a high-end hair and makeup experience in the suburbs.
The Twist
Host Melissa Fassel Dunn takes a trip to the Yellow Door Taqueria for their classic margarita, crafted by the uber-talented Caitríona O'Grady.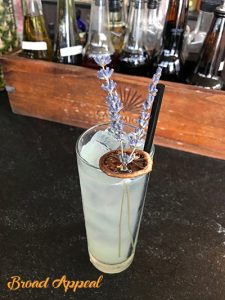 How to watch:
Watch the latest episode here:

"Broad Appeal" is currently airing on the Public channel (Comcast 9/RCN 13) every Tuesday evening at 8 p.m. and Thursday morning at 9 a.m., with new episodes each month.
Find out more at www.broadappealtv.com.
Subscribe to Broad Appeal on YouTube.
Follow Broad Appeal on Instagram.