Letter to the Editor: Inaccurate reporting in Christiansen termination
Dear Editor of The Milton Scene:
On May 8, 2019, Milton's Select Board took the extraordinary step of issuing a statement concerning its removal of Cindy Christiansen from certain town appointed offices for conduct inappropriate for a town appointee "…to respond to inaccurate information about this action."  I, too, write to respond to inaccurate information related to this matter. For reasons that should be clear by the end of this commentary, I write to The Milton Scene rather than to the Milton Times.
On March 28th, the Milton Times ran a story "Court Rules in Favor of Christiansen" that purported to cover a magistrate's hearing involving eavesdropping allegations that I made against Christiansen.
A principal issue in the matter was that Christiansen's cell phone number appeared on the call log for a June 24, 2018 board of directors' conference call of Fair Skies Nation – a private non-profit. Christiansen is not and never has been a member of that board.
While the newspaper reported that Philip Johenning, a former Fair Skies Nation board member, testified at the hearing that, while having dinner that evening at her home, he used Christiansen's cell phone to access the call because he did not have his phone with him, the Milton Times failed to include in its report any mention of a highly relevant email from Christiansen to Select Board Member Melinda Collins, from June 26, 2018.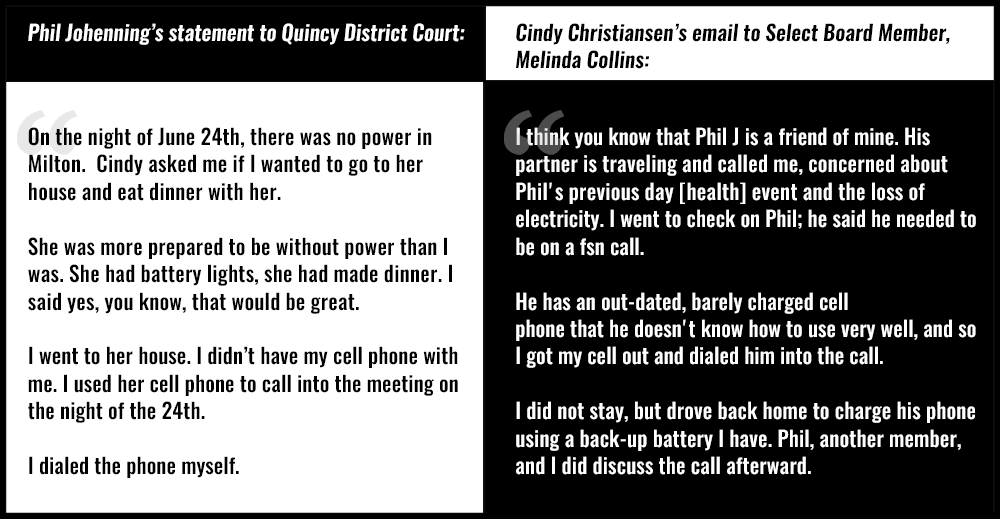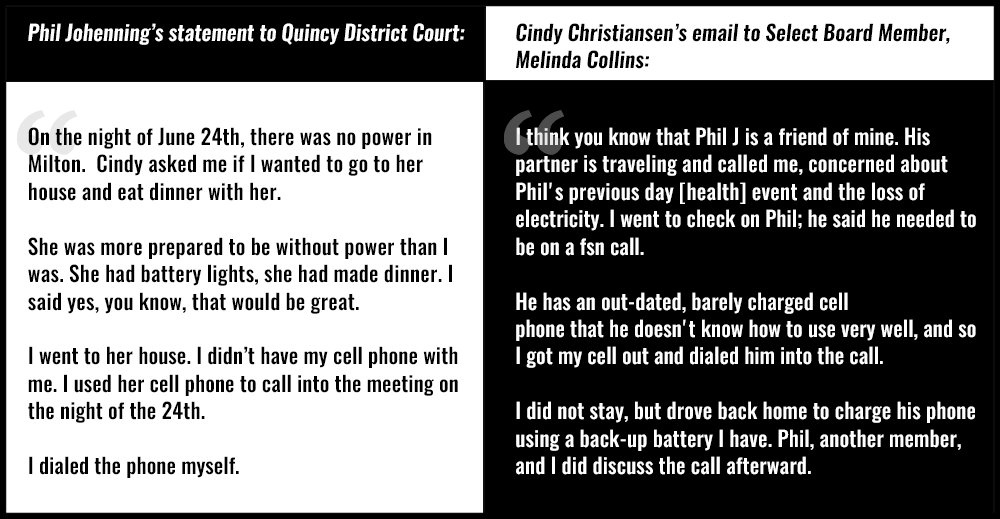 In this email (sent just two days after the board call), Christiansen provided the following conflicting explanation: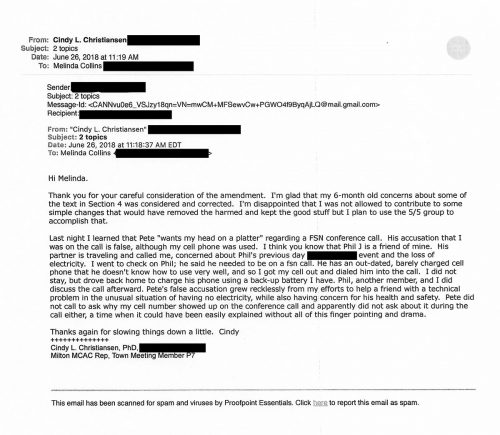 "Last night I learned that Pete 'wants my head on a platter' regarding a FSN conference call. His accusation that I was on the call is false, although my cell phone was used. I think you know that Phil J is a friend of mine. His partner is traveling and called me, concerned about Phil's previous day [health] event and the loss of electricity. I went to check on Phil; he said he needed to be on a fsn call. He has an out-dated, barely charged cell phone that he doesn't know how to use very well, and so I got my cell out and dialed him into the call. I did not stay, but drove back home to charge his phone using a back-up battery I have. Phil, another member, and I did discuss the call afterward. Pete's false accusation grew recklessly from my efforts to help a friend with a technical problem in the unusual situation of having no electricity, while also having concern for his health and safety."
If one is to believe the story provided by Johenning under oath in court, this email clearly shows that Christiansen was untruthful with a member of the Select Board with respect to the Fair Skies Nation board call.
Although I did not receive this email from the town until a week after the hearing pursuant to a public records request (which was over one month late under state law), the town's investigator discussed it with me when I met with her in January.  My attorney provided it to the editor of the Milton Times on March 19th – over one week before the newspaper published the March 28th article.
No mention of this email or that exchange was made in that article or in any of that newspaper's subsequent coverage.
It would certainly be important for readers to be made aware of Christiansen's false alibi provided to a member of the Select Board when reporting on her termination by the town for misconduct following an investigation into her behavior regarding this matter by town counsel. False alibis are also considered strong evidence of consciousness of guilt.
In addition to failing to report on the email, the Milton Times did not report on important matters at the hearing concerning her witnesses. While that newspaper's March 28th article quoted extensively from Christiansen's witnesses, it failed to mention that the magistrate expressly questioned the truthfulness of some of her witnesses.
The article also failed to report that two of Christensen's witnesses (both former Fair Skies Nation board members), admitted to deleting electronic messages from Christiansen when faced with questions regarding whether Christiansen had been messaging those witnesses about what was being discussed on the Fair Skies Nation board call while it was being discussed. Submissions made in court also showed that one such witness had even been previously advised in writing to preserve those messages. These are material facts that would have better allowed readers to weigh the reliability of the witnesses whose statements were published and to have a clearer picture of the events at the hearing more generally.
Further, the March 28th article failed to report on many of the clerk magistrate's highly relevant statements. For instance, after hearing closing statements and discussing the technical legal standards, he pointedly recounted an adage that courts would be overwhelmed if they "prosecuted everybody that told a half-truth or a lie in a courthouse." He went on to reflect "that's an unfortunate reality." He expressly cited his authority as a magistrate under Massachusetts law to not issue criminal complaints even if he finds probable cause to exist.
He later commented as to Christiansen "It's probably a very close call whether or not there is probable cause to issue a criminal complaint for violation of one or both of the statutes. Do I think you maybe listened in on the call? Maybe. Do I think there were half-truths told to me by the witnesses? Maybe." He later said "I think maybe it did happen on some level."
"Do I think you maybe listened in on the call? Maybe. Do I think there were half-truths told to me by the witnesses? Maybe." He later said "I think maybe it did happen on some level." -Magistrate Patrick Bulmer
While the Milton Times did state that the magistrate cited to Christiansen's age and lack of criminal history as factors in his decision not to issue the complaints, it did not quote the ruling itself which came immediately after he cited those factors where he stated: "While I certainly, maybe, believe it happened and have some suspicions, even if it did, I'm empowered to not issue them if I think it is appropriate and I think that's appropriate under these circumstances to not issue these complaints." At no time did the magistrate say "I do not find probable cause."
Including these omitted statements and the actual magistrate ruling in its reporting would have better provided readers with information to judge whether the magistrate's decision to not issue the complaints exonerated Christiansen or whether he just cut her a break.
Despite these many omissions, the Milton Times devoted considerable coverage to public comments made by Christiansen and her witnesses and published two letters to the editor from her on April 18th and May 2nd.  In those comments and letters, Christiansen claims that the magistrate exonerated her (see above), my accusations were false (notably the same claim made in her untruthful email to Select Board Member Collins) and, unsurprisingly, goes on to accuse her accusers. Many would find it troubling that, knowing of Christiansen's untruthfulness in this matter, the Milton Times would publish these statements and letters at all, but certainly without reporting on Christiansen's false alibi, the destruction of evidence by certain of her witnesses, the magistrate's express questioning of the truthfulness of certain of those witnesses, or the magistrate's actual ruling. Reporting on these items would have allowed readers to evaluate the merits of her claims in her letters to the editor.
Finally, many would also find it troubling that the Milton Times has failed to disclose in its reporting of this matter that my wife owns The Milton Scene and that The Milton Scene competes with the Milton Times.
I believe that these and other omissions have left residents with a distinct misimpression in this matter. I also fear that the coverage of this affair by the Milton Times will discourage others in the community who seek to truthfully speak up and hold town officials accountable when those officials are believed to have engaged in misconduct.
Milton deserves better.
Sincerely,
Peter I. Dunn
Editor's Note: The contributor of this letter is the spouse of the owner of the Milton Scene. The Milton Scene will continue to cover developments in this story. This letter was updated to correct that the Select Board statement was regarding an investigation into whether Christiansen engaged in conduct inappropriate for a Select Board appointee. An earlier version had stated that it was into conduct unbecoming of a Select Board appointee. An additional update provides supplemental detail about the author's acquisition of information concerning Christiansen's email to Select Board Member Collins.