Milton Foundation for Education Jeep Raffle tickets on sale March. 14 & 15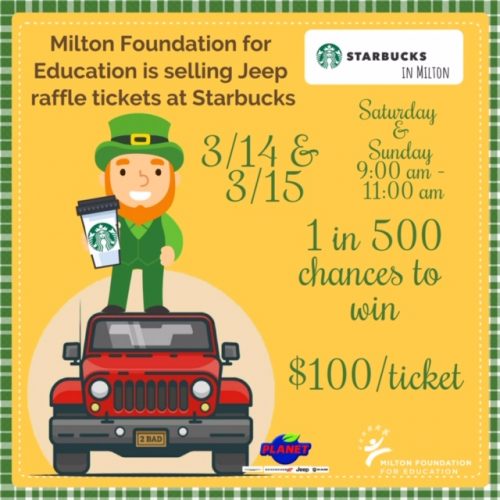 Tickets for sale at Starbucks on Saturday and Sunday, March 14 & 15, from 9:00 a.m. – 11:00 a.m.
$100/ticket.
Are you interested in winning a 2020 Jeep Wrangler or $20,000 cash?
2020 MFE Jeep Raffle tickets are hot off the press! Email [email protected] to purchase a ticket ($100) or with any questions. The winner will be drawn on April 4, 2020 at the MFE Celebration.
The Milton Foundation for Education Celebration 2020 is coming soon! Save the date for April 4th, 2020 at Granite Links.
The Milton Foundation for Education's Celebration and Jeep raffle raises money in support of all six Milton Public Schools.