Superintendent Jette releases updates for week of September 3, 2020
This week's highlights include return to school, updates protect the paw, face covering and immunization policies, technology resources and more.
FROM THE DESK OF THE SUPERINTENDENT
I write to you today in the midst of my eighth day as your Superintendent. To say they have been a busy eight days is an understatement. If you did not have a chance to read my email to Milton Public Schools parents and guardians this week, I invite you to read it here.
I have received hundreds of emails this week and I have not been able to respond individually in all cases. To all who have written with words of encouragement and congratulations, thank you. It means a lot to me to have heard from you. To all who have written with suggestions and comments, please know that they have been read and shared with the appropriate people.
Some of you have emailed me this week to ask if the district will now switch to a remote model. The short answer is no. Superintendent Gormley, with the full support of the MPS Leadership Team (of which I was a part of as the Principal of Milton High School) put forward a Hybrid/Remote Choice Model to the Milton School Committee on August 13. At their meeting on August 13, the School Committee voted 5-1 to begin the year in the Hybrid/Remote Choice Model. Unless health experts and metrics dictate a change , or Governor Baker mandates a model change for Milton or the State, the Milton Public Schools will begin the school year in the Hybrid/Remote Choice Model.
On Monday of this week, the teachers and staff of the Milton Public Schools began the 20-21 school year. All week, teachers and staff have been engaged in meaningful Professional Development, team building, planning and collaboration. They will continue this work next week, in a hybrid model, with some time spent working remotely and some spent in our school buildings.
On September 16, we will welcome our first students into our buildings. While we will work this fall to address content gaps that exist due to our time out of school, our primary focus in these early days will be on your child's well being. Tending to their social emotional health while focusing on building strong interpersonal relationships will be paramount. We know that children learn more when they feel safe and protected and we will work with you to help all of our students feel comfortable and ready to learn.
We are actively planning and preparing for a successful and joyful Return to School! I wish you and your family a restful and relaxing Labor Day weekend and I look forward to partnering with you in the weeks and months ahead.
RETURN TO SCHOOL UPDATES
We are ready to Protect the Paw!
Protect the Paw is our MPS effort to energize the Milton community around making decisions that will allow our students and staff to begin the school year in the safest possible environment. Small decisions that we all make every day can have a big impact on the health and safety metrics in the Town of Milton.
A key component of a safe return to school is mask wearing for all MPS students and staff. Last week, the School Committee finalized the MPS face covering policy. All students and staff will be wearing a mask and the details on the newly approved mask policy can be found here. Please see our Masks 101 guide here.
Cohort information has been or will be emailed:
Elementary: Week of August 31
Pierce: Week of August 31
MHS: Schedules and cohort by September 15
All students have been confirmed as either in the Hybrid or Remote model. At this time, in order to make final plans for the opening of school, there will be a pause on changes to model choices. If a parent/guardian needs to move from Hybrid to Remote due to a medical issue, they should contact their child's principal. All other change inquiries will be considered after September 30.
In person start and end times for each school under the hybrid choice are as follows:
​Pierce and MHS: 7:50-12:00
Cunningham and Collicot: 8:15-11:15
Glover and Tucker: 8:35 – 11:35
Leaving time for dismissal, travel home and lunch, remote learning will take place each afternoon for all students:
Pierce and MHS: 1:10 -2:45 pm
Cunningham and Collicot: 1:00-3:00 pm
Glover and Tucker: 1:20-3:20 pm
The school day for all remote students is generally the same
***
The Milton School Committee voted to approve four policies last week. You can read the details below. Each of these policies is important and I encourage you to take the time to read through them.
***
#MPSanywhere: Have you begun setting up a space in your home for at home and remote learning? We would love to see it! Send us a picture of your #MPSanywhere work space and we will share it with the MPS community. Email your picture to [email protected] or drop it into this folder.
#MaskupMilton: We want to see your mask style! Send us your mask selfie and we'll share it with the MPS community. Email your picture to [email protected] or drop it into this folder. Can you tell who's behind the masks below?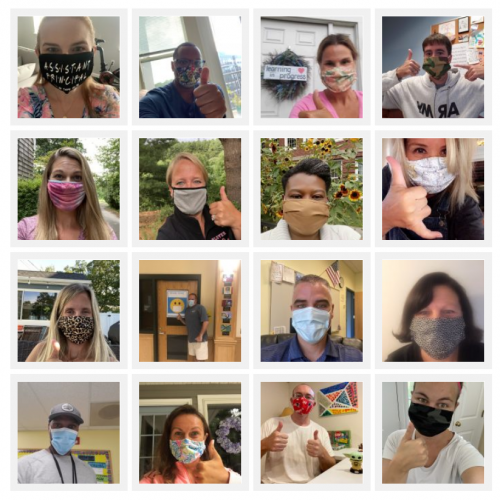 The Return to School Milton website continues to be the hub for all Return to School information. Our FAQs are updated regularly and you can often find answers to your questions here.
SCHOOL COMMITTEE
The next School Committee meeting will be on September 9 , 2020 at 7pm and all School Committee meetings can be watched on Milton Access TV. In the days leading up to each meeting, call in/log in information is available on the Town of Milton website.
TECHNOLOGY
Milton High School BYOD: What is BYOD? Milton High School's 1:1 device initiative titled Bring Your Own Device. Students will be encouraged to bring their own device, other than a smartphone, to school on a daily basis. Students who do not have a device can loan a Chromebook from Milton Public Schools at no cost. All details on BYOD can be found here.
Can we borrow a Chromebook? Yes. All MPS families will be afforded the opportunity to borrow a Chromebook from MPS. Families borrowing a device will be able to pick up their device during set dates and times before school starts.
If I want to purchase a device is there something specific I should get? If you would like to purchase a device for your MPS student (Pierce students will be assigned a device as part of a Pierce 1:1 device initiative started last year) we have recommended minimum tech specs. This link is to the MHS Bring Your Own Device flyer. The bottom left corner of the flyer is a link to these minimum tech specs.
Family Technology Support Help Center website: This site was created after hearing the feedback MPS families provided. The site provides information on PlusPortal, Google: Clever: Guardian Monitoring, and Who to Contact.
Student Technology Boot Camp: This student boot camp was created to help prepare students for remote learning. Students should go through all of the modules to become more comfortable with all of the platforms/applications that will be used throughout the 2020-21 school year. Each module will include important topics your student will be expected to use.
Screentime and Blue Light: Well before the pandemic put everyone in front of a screen for hours on end, it was debated whether blue light being emitted from devices causes eye issues. Here are some resources to help educate families on blue light.
Harvard Medical; WebMD; Research Progress; Blue Light & Sleep – Forget What You Know; Best Blue LIght Glasses for Kids
SPECIAL EDUCATION 
Please see below from Administrator for Pupil Personnel Services, Sue Maselli.
Welcome back to our families in Special Education!
Once you hear from your child's Principal regarding their cohort assignment you can expect to hear from your Team Chairperson to discuss how your child's special education services will look in your selected model of school attendance (hybrid or remote). Following that discussion you will receive a comprehensive document summarizing the discussion and outlining how services will be provided of your child.
Please note that as school reopens, we anticipate lots of questions and concerns regarding students and learning and missed instruction/services as a result of COVIID-19 both in general and special education.
With DESE guidance, the considerations we are using to guide these discussions include:
General Education Recovery Support: May be made available to students with disabilities and students without disabilities who need it to address educational and social-emotional needs and reorient them to learning.
COVID-19 Compensatory Services: For students with IEPs to remedy skill or knowledge loss or lack of effective progress due to delayed, interrupted, suspended, or inaccessible
IEP services because of the emergency suspension of in-person education related to the COVID-19 pandemic.
New IEP Services: To address new areas of disability-related need for students with IEPs.
Finally, your child's team chair will address compensatory services with you within the Team Process and we encourage you to reach out with any concerns. Thank you for your patience during this unprecedented time.
***
Notification of Student/Child Find: In accordance with Federal and State regulations, the Milton Public Schools provides special education programs for eligible students designed to meet the needs of children attending not only public schools, but also those attending private school at private expense as a Milton resident.
Milton provides all residents with an opportunity to participate in the public schools program using a continuous and systematic effort to identify children in need of special education services. Please continue to read the 9/1/20 Notification of Child Find here.
***
What is the McKinney-Vento Act? The McKinney-Vento Homeless Assistance Act ("Act"), 42 U.S.C. 11431 et seq., is a federal law that is designed to ensure that homeless children and youth have the same access as other children to public education, including public preschool programs. Please see the full McKinney-Vento Public Notice on the 2nd page here.
***
TRANSPORTATION
Given the significant restrictions placed on the number of students who can ride a bus at any given time (33% of normal capacity), we are recommending that parents/guardians of students who do not qualify for transportation under state law should plan to make other transportation arrangements as the number of available seats beyond those required by law will likely be very small, if available at all. State law requires that transportation be provided for students in grades K to 6 who live 2 miles or more from school.
The Milton Public Schools will run three bus runs in the morning and afternoon as it has done in the past- Middle/High School; Collicot/Cunningham; Glover/Tucker.
MPS will follow the guidance set forth in MA DESE's Fall Reopening Transportation Guidance (July 22, 2020). Measures include:
Masks- All staff and students on the bus, regardless of age, are required to wear masks at all times.
Distance- Students should be seated no more than one student per bench, alternating sides for each row, which allows students to maintain approximately 3 feet of physical distance. Children from the same household may sit together and in closer proximity (e.g., two students per bench).
Ventilation- Keep windows open at all times during operation, unless not possible due to extreme weather conditions.
Seat assignments- Students should be assigned to a single bus and a particular seat.
Please email [email protected] with questions.
PIERCE PAGES
Pierce Principal Bill Fish sent two important updates to families this week. Please see the links below to stay up to date.
FOOD SERVICE
We have so enjoyed seeing many of our families at our weekly meals to-go pick up every Wednesday at Tucker and MHS from 8-9am and 5-6pm. Our Wednesday summer pick ups will continue through September 9.
When school resumes, all students will have the opportunity to pick up grab and go meals as they leave school each day and we will also continue a weekly pick up option on Wednesdays beginning on September 16. All weekly meal pick ups will continue to be free through December 2020.
Additional food resources can be found here. MPS families in need of support at anytime are encouraged to email MPS Family Outreach Liaison Marti O'Keefe McKenna via email at or by phone at 617-980-7343.
FAMILY RESOURCES
The William James College INTERFACE Referral Service is a confidential outpatient mental health and wellness referral Helpline available Monday through Friday, 9 am-5 pm, at 888-244-6843. This is a free, confidential referral service for Milton residents and public school students. Callers are matched with licensed outpatient mental health providers from their extensive database, on average, within 2 weeks of their call to INTERFACE. Each referral best meets the specialty needs, insurance or fee requirement, location and availability needs of the caller. For more information, visit their Facebook page @InterfaceReferralService or list the website at this link.
This free service has been made possible to Milton residents thanks to the generous support of the Beth Israel Deaconess Hospital-Milton, Town of Milton Police, Public Schools and Public Health Department, Mike's 5K, and Milton Substance Abuse Prevention Coalition.
***
Our school based Adjustment Counselors are available as resources for your family. Please reach out to your principal or Adjustment Counselor for support at anytime.
MPS school Adjustment Counselors:  Jennie Beliveau, Mary Bianca Mattocks, Kenneth Adelmann (Milton High School); Myriam Francoeur, Kara Sheridan, Kelly Dearing(Pierce) Jaclyn Germano (Cunningham); Elizabeth Caruso (Collicot) ; Ramsay Cadet (Tucker) Brian Powers, Christine Howley (Glover)
***
The Milton Public Library has many virtual programs for children all month long. Details can be found here.
All updates on Family Resources – food, health insurance, financial assistance, contacts – can be found at this link.
NEW MPS STAFF
Every August we welcome new staff to the Milton Public Schools. This year is no different and we are grateful to our MPS Mentor Team who has welcomed our new staff and will work to support them throughout the year. To our new MPS teachers and staff, welcome to  the Milton Public Schools!
Some of our new MPS staff are pictured below and we will share more new faces with you in the coming weeks.
ART AND MUSIC 
Although it will look different this year, we are  running the Applied Lesson Program remotely for the foreseeable future.
The Milton Applied Instrumental Program is now registering new students in grades 4 and above. Information for beginning students can be found here: ALP September 2020  If you are interested in registering your student for lessons please fill out this form by September 24th:  ALP Beginner Form 2020 Once you have filled out the form, the program directors or a lesson teacher will be in touch with you to set up a lesson time. Please contact Rebecca Damiani with any questions at [email protected]
SCHOOL SPECIFIC INFORMATION
The 20/21 school year started on Monday, August 31 for staff, and will begin on Wednesday, September 16 for grade 1-12 students and on Monday, September 21 for our kindergarten and preschool students. On Friday, September 4 and Monday, September 7, the Milton Public Schools is closed for Labor Day weekend.  Follow our MPS Facebook page and MPS Twitter account for news and information throughout the year. The full MPS calendar can be found here.
MILTON HIGH SCHOOL
Assistant Principals Mr. Ben Kelly and Mr. Brian Mackinaw.  An Interim Leadership Team for the 20-21 will be announced soon.
Administrative Assistants Mrs. Maureen Kennedy and Mr. Brad Spindle and Ms. Meghan Connors
MHS Athletic Website
MHS Website
PIERCE
Principal Mr. William Fish and Assistant Principals Dr. Nick Fitzgerald and Ms. Janice Mazzola
Administrative Assistants Mrs. Sandy Wyse and Mrs. Susan Higgins
6th grade welcome activities will take place during the school day during the 1st weeks of school
Pierce Webpage
Pierce PTO email contact
Pierce PTO Facebook page
GLOVER
Principal Mrs. Karen McDavitt and Assistant Principal Mrs. Sara MacNeil
Administrative Assistant Ms. Deb Woods
Glover Webpage 
Glover Twitter account
Glover PTO FB Page
Glover PTO email contact 
COLLICOT
Principal Mrs. Holly Concannon and Assistant Principal Ms. Ellen Lohan
Administrative Assistant Ms. Joanne Barker
Collicot Webpage
Collicot PTO email 
Collicot PTO Facebook page
CUNNINGHAM
Principal Dr. Jon Redden and Assistant Principal Mrs. Bernadette Butler 
Administrative Assistant Ms. Erica Cadigan 
Preschool Updates
Cunningham Webpage 
Cunningham PTO email 
Facebook Page
Cunningham School Twitter 
Cunningham School Instagram
TUCKER
Principal  Dr. Elaine McNeil-Girmai and Assistant Principal Ms. Kristen Driscoll
Administrative Assistant Mrs. Eileen Keaney
Tucker School Supply lists
Tucker Webpage 
Tucker  PTO email contact
Tucker  PTO Facebook page
COMMUNITY NEWS
Sign up to give blood at Milton's Boston Childrens Hospital Blood Drive!
Last September MPS held its first Milton Goes Gold month in support of Childhood Cancer Awareness. We raised funds and awareness in support of our young friends impacted by childhood cancer.
This year, we are unable to have a full Milton Goes Gold month but we invite you to sign up to give "liquid gold" – lifesaving blood – at one of two community blood drives. Due to Covid safety precautions, walk-ins are not allowed but you can sign up to give on September 19 here and September 24 here. Thanks for helping to support Childhood Cancer Awareness Month!
***
Great news from the Milton Public Library!
With the start of school in Milton being pushed back, we at the Milton Public Library are pleased to report that the 2020 Summer Reading Challenge has been EXTENDED until September 16! More time to log your minutes, write reviews of the books you read, and complete activities.
This also means that we are going to push back the drawings, to give all of our readers time to earn as many tickets as possible. Drawings for all of our cool summer reading prizes will take place on September 12
The MPL offers fun and FREE virtual programs for kids almost every day of the week – and we're adding a few extra to keep kids busy in the first half of September while you're waiting for school to start. Keep an eye on our program calendar for information about how to register for crafts, STEM activities, story times, book club, and more!
In addition, there are many children's programs being offered at the library virtually between September 13 -19. See all the fun offerings here.
***
The Forbes House Museum invites you to the Autumn Illumination Festival on Friday, September 11 from 6-8pm.
Join us on the front lawn of the Forbes House Museum for a concert by Boston-based Kings of Ghost Town, featuring original acoustic music that blends bluegrass and contemporary composition by Danny Erker and Evan Murphy. Enjoy original poetry by Dorchester-based Anna V.Q. Ross, inspired by her family and current events. These artists have been turning to their work to find hope, purpose, and connection; this event is a way to share those positive feelings with the rest of us. Audience members will receive battery-operated candles to help illuminate their space as night falls. 
This event is free and advance registration required. Limited seats available per COVID-19 restrictions. For more information visit our website. For those unable to attend in person, the event will be streamed live on Facebook.
Thank you to the Mass Cultural Council for funding this event through its Festivals Program. 
***
Brookwood Community Farm is continuing to accept folks joining our 2020 CSA using SNAP benefits at a rate of $40/month.  This $40 is added back to their account immediately through HIP.  If forms are filed quickly, the member will receive a share every other week from now through the week before Thanksgiving.  Pick up at the farm is preferred but if transportation is a barrier, Brookwood will find a partner to deliver the share. Please print out the form and call or email to alert us that it is coming.  Farm phone 339-502-0826.  Email [email protected]brookwoodcommunityfarm.org.  The form can be found at the bottom of this page.
AMBASSADORS
As part of our blog, we highlight students, teachers or members of the community whose hard work deserves recognition. Please read about some of their accomplishments below.
The six Milton PTOs asked me to include the following statement and I am happy to do so here:
We wanted to take a moment to express our sincere appreciation for Superintendent Mary
Gormley's years of service to our children. We are not sure anyone has worked harder to make the Milton Public Schools the top-notch school system that it is today – 46 years of passion, dedication, empathy, kindness, and tenacity. Sometimes we wonder if she actually ever slept – responding to parent emails at all hours, attending every event she could where an MPS student had a chance to shine whether inside the classroom or out – a sporting event, a Pierce Players show, an end of year award ceremony, one of our amazing band concerts, and even most recently – reading Charlotte's Web virtually to a group of elementary students every week during the pandemic. It is not easy to be a public figure in this town – especially when you oversee the education and well-being of thousands of students.
It is your time now Mary – we wish you the absolute best in your well-deserved retirement and thank you from the bottom of our hearts for your hard work and pure, unabashed dedication to providing the best for our children!
The MHS PTSFO, The Pierce, Tucker, Glover, Cunningham, and Collicot PTOs
The Milton Public School system does not and shall not discriminate on the basis of race, color, religion (creed), gender, gender expression, gender identity, transgender status, gender transitioning, age, national origin (ancestry), disability, marital status, sexual orientation, or military status, in any of its programs, activities or operations. These include, but are not limited to, admissions, equal access to programs and activities, employment, provision of and access to programs and services, as well as selection of volunteers, vendors and employers recruiting at the Milton Public Schools. We are committed to providing an inclusive and welcoming environment for all members of our staff, students, volunteers, subcontractors, and vendors. The following person has been designated to handle inquiries regarding the non-discrimination policies: Asst. Superintendent for Curriculum & Human Resources, Dr. Karen Spaulding, (617) 696-5040 ext. 5582.