Job Posting: Friendly Visiting Coordinator – Roxbury/Dorchester (FT)
FriendshipWorks is looking for a full-time Friendly Visiting Coordinator for Roxbury, Dorchester and several other Boston neighborhoods (Hyde Park, Mattapan).
Primary responsibilities include: outreach, volunteer recruitment and screening, matching, home visits, and reporting.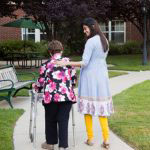 Additionally, the Coordinator is responsible for regular community engagement and leadership of local neighborhood initiatives that serve the FriendshipWorks mission.
This position spends 2-3 days downtown, with the rest of the time spent in assigned neighborhoods.
While travel can occur on public transportation, access to a car can be helpful but not required. Occasional evenings and weekends may be required.
Please see www.fw4elders.org/about-us/careers for full job description. Send resume and cover letter to [email protected].