10 A+ gift ideas for teachers
Before you know it, it will be the end of the school year. Here are some teacher gift ideas to order ahead of time so you're not scrambling!
Notes of thanks are personal and priceless. We love these beautiful cards, which you can keep on hand for future teacher notes!
Teach, Inspire, Repeat T shirt:
This design comes in sweatshirts, t shirts, and racerback tanks: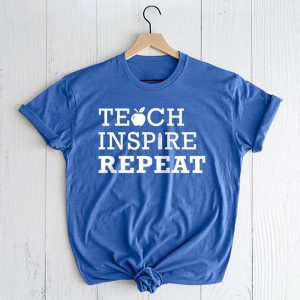 Why You're the Best Teacher Ever Book
Simply fill in the blanks of this small book  and voilà: it becomes a personalized gift your #1 teacher will read again and again. Make it as educated, eloquent, or elementary as you please!
Who can't use a gift card to purchase exactly what they want? These gift cards come in a variety of denominations and word on the street is teachers really love gift cards.
S'well Stainless steel traveler
Can you imagine how parched teachers get? This triple-layered vacuum-insulated travel mug keeps coffee, tea and drinks cold for 36 hours and hot for 15, almost as long as a school day can feel! Comes in a variety of colors and prints.
100 sheets with 25 different scents! Who doesn't love this throwback? Add them to a thoughtful note!
Less than 5″ wide, this mini single-serve coffeemaker will be an easy (and welcome) addition to your teacher's classroom.
Who wouldn't want this delightful indulgence hidden away in the bottom desk drawer?
Many teachers must wear ID cards and/or keys on lanyards, so why not add a little fun? Also available are blueprint, mechanical wheels, and stem lanyards!
This page contains affiliate links. This means, when you purchase, we get a small commission. You don't pay more money, but the commission goes toward our coffee habit.