MSAPC presents: Athletes and Addiction: Making Injuries Safe
Many young athletes face a serious injury at some point; one that might lead to the need for pain relievers from a doctor.  When an opioid is prescribed, given the risk of addiction, should your child take it? Are there alternatives?  Is there a way to use them safely?  Dr. Daniel Muse is an emergency medicine specialist in Brockton, MA.
He is also passionate about reducing the high incidence of drug abuse and addiction.
Join us on Wednesday, June 17 at 7:30 p.m. for a webinar with Dr. Muse to discuss these questions as well how athletes, parents and coaches can help prevent addiction.
Each webinar in the Milton Learns Together: Webinar Wednesdays series is approximately 30 minutes long with a question and answer period to follow. They are free and no registration is required. All of the webinars can be accessed by entering this address into your computer's or phone's browser: zoom.us/j/92433263470 and entering your name and email.
The Milton Learns Together: Webinar Wednesdays June schedule is as follows: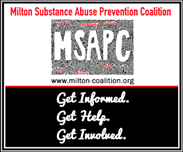 June 3rd, 7:30 p.m., Casey Corcoran, The Birds, the Bees and the Butterflies
June 10th, 7:30 p.m., Julie B. Cullen, Pandemic Parenting: Grades K-5
June 17th, 7:30 p.m., Dr. Daniel Muse, Treating Acute Pain: Nonaddictive Options
June 24th, 7:30 p.m., Kristen Wason, Current Treatments for Alcohol and Opioid Disorders
Please note: the June webinars are now at 7:30 p.m. The Webinar Wednesdays series is supported by funding from a federal DFC grant, Mike's 5K to Crush Substance Abuse, and from BID Hospital – Milton.
For more information, please go to the Milton Substance Abuse Prevention Coalition website: www.milton-coalition.org.
All of our webinars from this series can be found in the video section of our Facebook page (MiltonCoalition) or in the Video On Demand section of the Milton Access TV website (miltonaccesstv.org).