Review: LG 5.2 cu. ft. Mega Capacity TurboWash Washer with Steam Technology (it's not good)
In 2021, in need of a new washer/dryer set, I purchased a Consumer Reports subscription to research high quality washers and dryers.
LG models consistently had the top reviews for front-loading high efficiency machines.*
Boy, were they ever wrong…
On Nov. 1, 2022, my less than one year old LG 5.2 cu. ft. Mega Capacity TurboWash® Washer with Steam Technology – model WM8100HVA displayed an IE error code.
After the wash cycle, it wouldn't drain and leaked through the ceiling to the bedroom below, pouring through the ceiling lights, soaking the ceiling itself, and running directly onto the rug. This was a few weeks before we were hosting for Thanksgiving.
I called LG for help. They ran some diagnostics and determined that the unit needed to be serviced. The customer service representative said she could not find someone immediately available to service the unit and said she'd get back to me.
I followed up several times asking for help with the repair. (Of note: I do about 15-20 loads of laundry weekly with my family of five.)
After about five days of no help, I called a local repairman to fix the washer, as I could not wait any longer for LG to return my phone calls or find me a repair person.
The pump was completely "fried," which the repair person fixed.  It cost $570.
However, it was not just the unit that had an expensive repair.
We thought the room that the water poured into would dry out quickly, and we could just move on, but despite opening windows and putting fans on, the room quickly began to smell – badly – of mildew.
We had to have the rug in the room below cleaned, replace the pad, and buy new industrial size fans and a huge dehumidifier – which ran for a full month – to dry out the room and remove the smell.
I would say total cost of repairs, etc. was well over $1200 (the cost of this nightmare of an LG washing machine)
On November 9, over a week later, LG finally contacted me to set up an appointment for a repair person but at that point, I had already had the unit fixed.
I spoke with and texted LG customer service about getting reimbursed for both the warrantied repair and also the property damage resulting from the machine's failure. I was told someone would get back to me.
I called and texted customer service several times for updates and help.
They requested the invoice for the repair and other information.
Every time I reached an agent, they'd tell me that the issue was being escalated, and I'd hear back soon, but after November 17th, nobody called or texted back:

On December 22 (yes, three days before Christmas), my LG TurboSteam washer stopped working AGAIN.
It displayed a DE1 and also a DE2 error code. The door wouldn't unlock and the washer was again filled with water. It also smelled like burning rubber and was making a clicking sound in the back.
I called LG and unplugged it and replugged it in several times – running through their ineffective profile. It would not unlock. The agent was also concerned about safety due to the smell.
The agent said she would call me the next day (December 23) with an update for a service repair.
She also apologized profusely that this machine has been so terrible and that nobody had followed up on the previous repair and property damage.
She did not call me back the next day.
I called LG again on December 23. There seemed to be no record of the call from December 22.
I was again told somebody would call me back.
Nobody called.
In a last desperate attempt, I wrote a review on the LG Support USA Facebook page. I also messaged them and proceeded to chat with an agent named Angel over the course of several days, including Christmas day, which was surprising.
Here is a message from Monday, December 26th: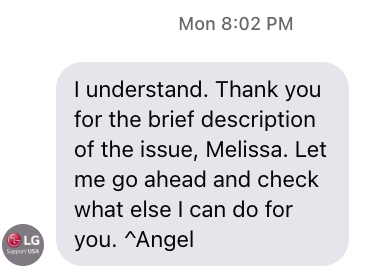 I didn't hear back (shocking) so I contacted them again on Friday, December 30: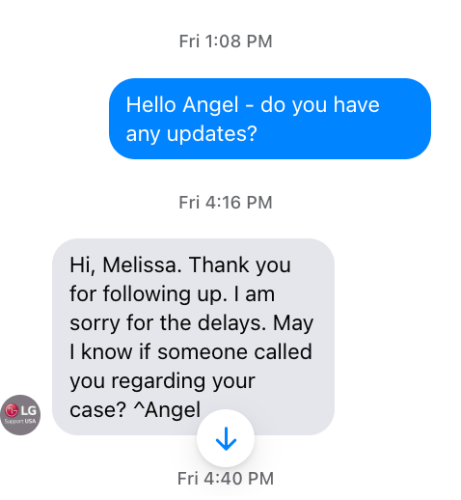 Here is another follow up message from Monday, January 2:
(Recall that the first incident was NOVEMBER 1! It has now been TWO MONTHS that I've been given this runaround. Also, this sounds pretty familiar to the text I received on November 17th… does this team even exist?)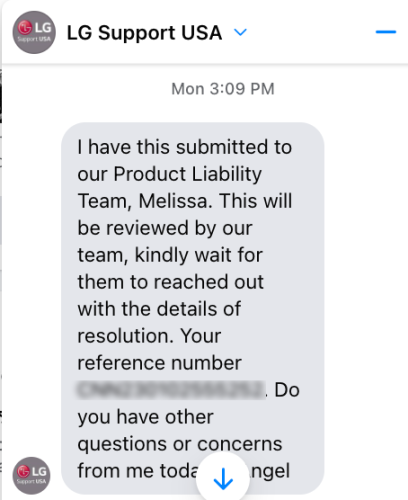 I strongly suspect I will be ghosted again by LG's customer service.
Their standard operating procedure seems to be:
Go through any useless protocol to try to fix the problem.
Determine the appliance needs to be serviced.
Tell customer they'll get support or a call back regarding service or help.
The call back never happens.
Customer needs to get in touch with LG again.
Go through the same explanation.
Agent tells the customer they'll get support or a call back.
The call back never happens, so you need to contact them over and over again in a Groundhog day spiral of customer service hell – with the same conversation on repeat and no resolution.
I hosted a house full of people over the holidays. Over the past two months, I have spent endless hours on the phone and via text and Facebook messenger. During the week of Christmas/New Year's, I had to go to the laundromat twice while hosting my out-of-town company, spending about eight hours total doing laundry – and away from my guests.
I value my time with out-of-town family and LG's terrible products have taken this time away from me.
They've also chipped away at my sanity.
I am so upset that this washer has cost me so much time and money.
It's a lemon of an appliance and LG Global customer service is an abomination.
Anyway if you were looking for the TL;DR review:
DO NOT BUY the LG 5.2 cu. ft. Mega Capacity TurboWash Washer with Steam Technology – model WM8100HVAA
LG's customer service is terrible.
Do not buy an LG product.
And probably, do not trust Consumer Reports' reviews (I know I never will, again).
It's now 2023 and I still do not have a functioning washing machine, so I'm considering taking this one out into the yard, Office Space style: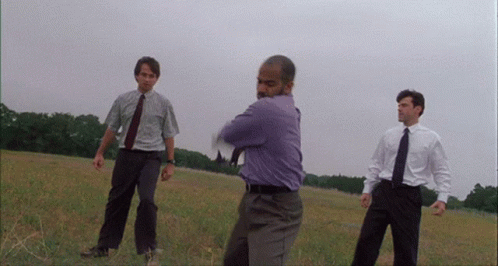 (Don't worry, if this happens, it'll be on YouTube.)
---
Here are some non-LG recommendations from members of Milton Neighbors: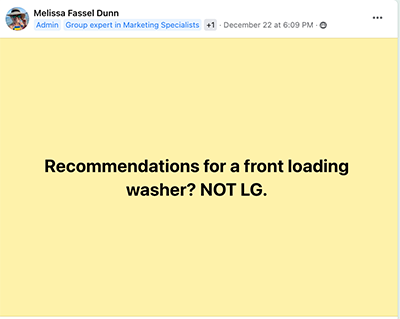 "Happy with GE but only with the optional pedestal which also serves as a big drawer. Without the pedestal you end up on your knees emptying the wet clothes."

"Just had to have our LG repaired. Repair guy said to look at Speed Queen top loaders, but next he recommended Maytag or Whirlpool. I think Hancock Appliance had some Maytag in stock."

"I'm on my own and have a Frigidaire."

"Whirlpool 💯💯💯 IMHO"

"Speed Queen is good but gets pricey to keep it running past five years."

"Im happy with my Samsung. At least 6 years and no issues. Clothes are clean."

"Just bought the GE with the vent dry thing and would recommend"

"High efficiency top loader!"

"We love our Samsung"

"Love my whirlpool. Hated my Bosch"

"Well, if you are willing to try new things, and want a really eco washer and dryer, try Blomberg. They are the best, hands down. They are German, smaller than our typical American machines, but very well built, efficient, and they have a thermo pump electric dryer that saves so much energy, and doesn't require venting to the outside. This is typical in Europe, but just starting to make it's way here. Really, look into it."

"We're happy with our Electrolux!"

"I have an Electrolux front loader and love it. Low cost of ownership – don't want to jinx myself!"

"We have a whirlpool front loader that we love. Had an LG top loader and it was the worst purchase we ever made."

"My appliance guy said make sure to buy the extended warranty they are all made with plastic parts that don't last"

"Whatever you get, I recommend verifying that it has a trap/filter that can be accessed and emptied by you to prevent clogs. I have an LG that does NOT have this feature and I can't believe i didn't think to check. My prior Samsung had the feature but honestly was not a great washer. I think my next will be a top loader, I'm kind of done with the front loaders."
Click here to view the entire post of recommended washers.
*I am not sure if I was ultimately able to get the exact model they recommended, due to supply chain issues at the time, but all of the front-loader recommendations from Consumer Reports were LG.