Milton is a family community: how one reader's bigotry led to overwhelming community support
Last weekend, a reader sent The Milton Scene this email, which I shared to the Milton Neighbors Facebook group: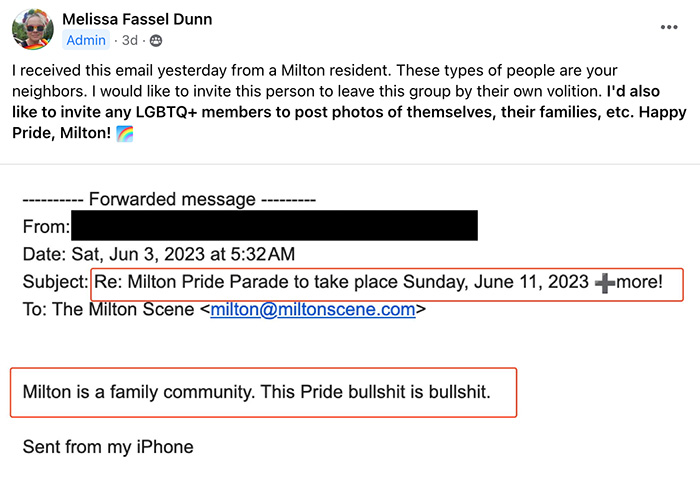 The email read, "Milton is a family community. This pride bullsh*t is bullsh*t."
It was an unfortunate reminder that hateful people are everywhere… but an even better reminder of how support and love wins.
Here were some comments from Milton Neighbors group members:
"Milton IS a family community, I hope—and families come in all types. Families, most certainly including LGBTQ families, are to be recognized, cared for and supported in a town which calls itself "community." There's no place for hate in any town!"
"Milton is a family community. A core family value is acceptance and unconditional love. Try harder whomever you are."
"If the writer is so concerned about family values, s/he might begin by teaching values to his/her family.
For starters, "Love your neighbor…"
"No place for hate!"
"…Their loss. Gays are the best. 🏳️‍🌈"
"My family loves Pride!…"
"Just wanted to pop on here to say thank you to all of you who are standing up to this hate. My wife and I fairly recently moved to the Quincy/Braintree/Milton area and we're always nervous if we're going to be safe somewhere. It's good to see people standing up for what is right!
🖤🤎❤️🧡💛💚💙💜"
"Love is love 🌈"
"We PRIDE ourselves on being open, accepting and welcoming and this email/message is not acceptable. I don't give a hot-damn about their freedom of speech. There is NO room for this kind of hatred here!"
"First, this made me so very mad. Then, it made me terribly sad. We have loved raising our family in this truly family community, where family is, well, just family. Yours, mine, the people we live with and love together."
"Just ordered a Pride flag for outside my house. Have no idea why I never did this before. Please say thank you to your mysterious sender."
"Pride is "bullshit". Because we should not have to have a month to celebrate the struggles LGBTQ+ people go through.
But they did, and still do. Anyone who does not believe they deserve better can… Do something I should not say on a "family" page."
"This is a rare moment when I'm actually glad I read the comments. ♥️🌈♥️"
Members also shared many beautiful photos of family and pride celebrations.
Milton has a history of turning negative into positive. In 2021, LeeMichael MacLean and Bryan Furze shared the story of a neighbor continually harassing them for their sexual orientation. They turned the story into the "I am Michelle Fruitzey" movement, which still today brings in donations to the LGBTQ+ students in Milton Public Schools.
Milton is a Family Community merch now available
In that vein, I have designed several "Milton is a family community" items available for sale online. (I would have loved to have gone with a local printer, but I don't have the time or ability to personally warehouse and ship items at this time.) Royalties from sales will go to the #iammichellefruitzey fund, which benefits the Gay Straight Alliance at Milton High School and Pierce Middle School.
Check out the full collection here, which includes T shirts for adults and kids, onesies, aprons, mugs, yard signs, flags, and more!
---
---
---
---
---
---
---
---
---
---
As a reminder, the PRIDE Parade in Milton is TOMORROW, June 11:
Drive in the caravan or spectate along the route!
4:00 p.m. – Decorated vehicles meet at Pierce Middle School.
Spectators set up along route (Reedsdale Road, Canton Avenue, Blue Hill Parkway, Brook Road, Canton Avenue).
4:30 p.m. – Caravan departs Pierce and drives in a slow roll. Meets up again to end at Pierce.
---
Zazzle sends royalties every 3 months. After royalties are deposited, a check will be sent to the Gay Straight Alliance at Milton High School and Pierce Middle School. This page may contain affiliate links.