One plane per minute in Milton.
If you live in an area close to the "airplane highway" above Milton, you most likely noticed that planes yesterday (Dec. 1) were flying in at a rate of almost one per minute. For the entire day.
"But the noise doesn't bother me":
If you do not live near the "airplane highway," or the noise simply does not bother you, you should still be concerned because pollution from air traffic has very, very bad implications for the health of you and your family. You might feel differently after reading some of these studies and articles (there are many, many more – too many to list). It seems to me that the planes being so concentrated over one area (Milton) makes us all prime candiates for health issues.
What can you do to help?
1. Attend the airplane noise forum with the FAA on December 3, 2015
WHAT: Airplane Noise Forum with the FAA, hosted by Rep. Stephen Lynch.
WHEN: Thursday, December 3, 7:00 – 9:00 p.m.
WHERE:  Milton High School Auditorium, 25 Gile Road, Milton, MA 02186
2. Print this sign and hang it on your door or in a window:
2. Print and distribute flyers regarding the forum:
Download a printable flyer to share with your neighbors (PDF).
3. Sign up to distribute flyers: bit.ly/1OnS6cp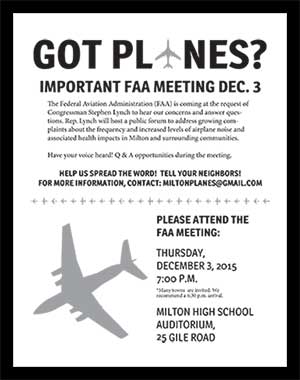 We need your help distributing flyers to help spread the word about the FAA Plane Meeting on Thursday, December 3, 2015.
We have divided the sign up by neighborhood/area.  Please select the area you wish to help us distribute flyers.  Please place flyers in between screen and entry doors or behind the windshield wiper and glass if there is a car in the driveway. Placing flyers in mailboxes is against the law, so please DO NOT place in mailboxes.
About the forum:
On Thursday, December 3, Congressman Stephen F. Lynch (D-Boston) will host a public forum at Milton High School to address growing complaints about the frequency and increased levels of airplane noise in local towns and neighborhoods that are impacted by Logan Airport air traffic.