Number one biggest problem is lack of commercial development according to poll.
On Facebook, Milton Neighbors recently cited many things that they feel are problematic in Milton right now. The Milton Scene recently polled residents on the top issue. 264 people responded to the poll.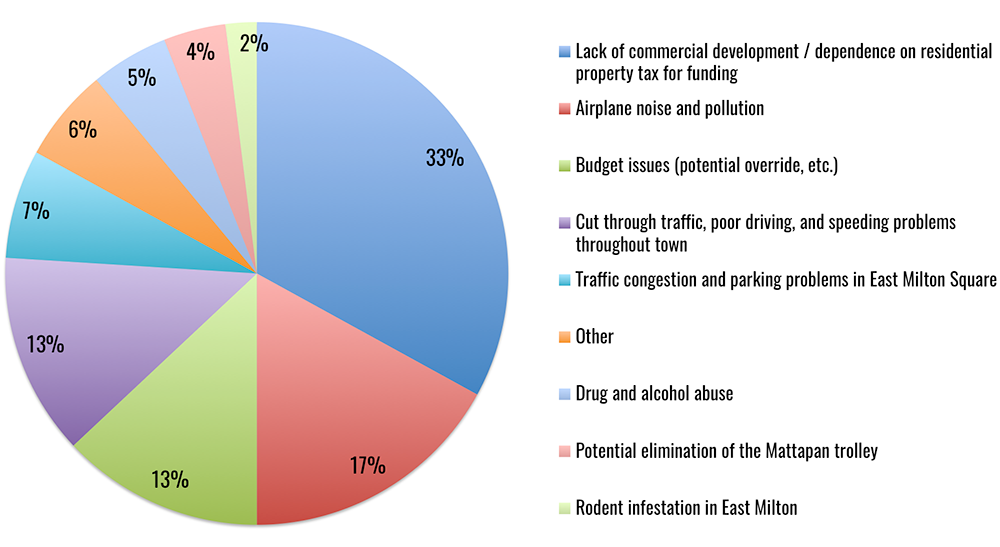 Lack of commercial development / dependence on residential property tax for funding: 33%
Budget issues (potential override, etc.): 13%
Cut through traffic, poor driving, and speeding problems throughout town: 13%
Traffic congestion and parking problems in East Milton Square: 7%
Other: 6%
Drug and alcohol abuse: 5%
Potential elimination of the Mattapan trolley: 4%
Rodent infestation in East Milton: 2%
Residents named "other" problems as the following:
(unedited; all comments included)
The terrible conditions of the streets, especially Canton Avenue.

This could probably be tied into budget issues, but the condition of our roads is embarrassing.

Nosey neighbors.

Condition of the roads.

Coherent 40B policy.

Selectmen.

Stalled resolution to Gov. Stoughton Land issue.

Not enough activities for teenagers to hang out safely.

Management.

Too many yuppies trying to change the town.

Safety in east Milton, police.

White privilege is rampant in this town.

40 b developments.

A culture of dishonesty and lack of integrity in the TA, and heads of DPW, Planning and MPD.

Generally ineffective local government with poor communication broadly to residents.

Seemingly widespread support for Chief Well's kneejerk decision to run for selectman, after deciding to break the contract he signed for more $ and blaming it on the selectmen who acted fiscally responsible.

Road conditions.

All of the above!
Disclaimer:
Miltonscene.com online polls are not intended to be a scientific sample of local opinion. Instead, they are a way for readers to share their views on the news with the Milton Scene and Milton Neighbors.
Respondents are not randomly selected, but select themselves to vote on a specific question or set of questions. In addition, while Miltonscene.com online polls are designed to allow only one vote per user, technically savvy users may find ways around this limitation. For these reasons, the polls are not presented as scientific surveys or as representative of the opinion of the general population of our readership areas, region or nation.