Broad Appeal: Lauren Barone on her full-service catering company
About this episode:
Milton's own Lauren Barone is the owner of The Seasoned Palette, a full-service catering company, but before delving into the culinary world had a successful career in medical research, including running a hematology oncology laboratory. Watch as she talks to host Melissa Fassel Dunn about all about her professional journey and the challenges she had to overcome along the way, and shares some expert cooking tips.
About our guest:
The Seasoned Palette  was born out of owner and chef Lauren Barone's lifelong passion for cooking and entertaining.
After many years of doing research at Children's Hospital, Lauren left the world of science to attend culinary school at Boston University and pursue her love of cooking.
For the past 17 years, Lauren has been honing her culinary talents through different avenues in the food world. She's worked as a personal chef, has dabbled in food writing, has done restaurant work culminating in the running of the Art Kitchen at the Fuller Craft Museum.
After many years of learning the catering business through working with many fine establishments in Boston, Lauren started the Seasoned Palette in 2008.
A seasoned traveler, Lauren savors bringing back flavors from regional dishes she continues to enjoy throughout Europe and beyond. One of her greatest pleasures is cooking for her husband and three children!
The Twist
Host Melissa Fassel Dunn treats us to her classic rum punch.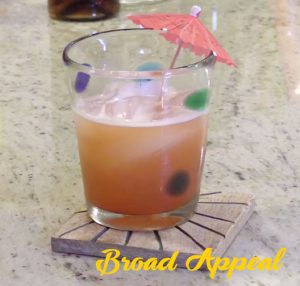 How to watch:
Watch the latest episode here:
"Broad Appeal" is currently airing on the Public channel (Comcast 9/RCN 13) every Tuesday evening at 8 p.m. and Thursday morning at 9 a.m., with new episodes each month.
More about Broad Appeal:
Find out more at www.broadappealtv.com.
Subscribe to Broad Appeal on YouTube.
Follow Broad Appeal on Instagram.